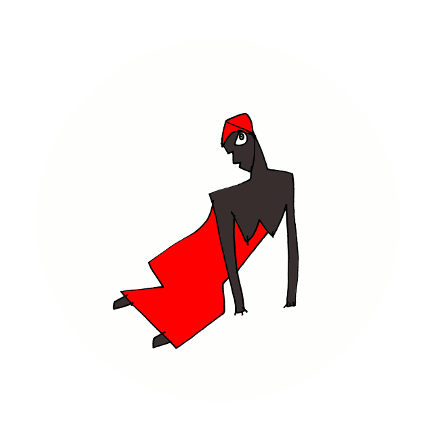 Mama Afrika is a performance shock where two masters, Wozniak ( draftsman) and Ramon Lopez ( drummer), confront their Africa.
This adventure arose from the love at first sight between two brilliant improvisers: Ramon Lopez, Spanish avant-gardist drummer in the effervescent boldness and Wozniak, the draftsman of the irreverence and the maker of stories... Having collaborated with musicians as Manu Chao or Archie Shepp on various projects (books, records, cartoon movies), Wozniak dreamed to make of this meeting between the drawing and the music a unique short-lived experience.
7 short stories specially drawn by Wozniak for this project, staged and livened up by Marjorie Guigue, are of use as detonator and as horizon to the performance of Ramon Lopez. By a play of improvisation in spiral, Wozniak answers Ramon Lopez by planning on the screen its drawings realized directly.
With Mama Afrika, two imagination in action is going to cross itself! Wozniak and Ramon Lopez shares the real affinities. We could believe that in the head resounds the same air of revolution. They are as two tightrope walkers walking through Africa at which they decided to look without blinkers.
This duet manages splendidly to create a boiling poetry of current events and the truth. Here the rhythm answers the image and the image speak to the music, completely possessed by the rhythms, colors and words of Africa
Ramon Lopez was born on August 6th 1961 in Alicante, Spain. Drummer, Percussionist and Composer. He began as a self-taught drummer in the mid-1970's. Witnessing a Max Roach solo concert in 1980 was a turning point that fundamentally changed his understanding of music. He was part of local groups until he decided to move to Paris in January 1985 and became increasingly involved in the experimental scene in France. At the same time, he developed an interest in Indian music, and took tabla lessons with Krishna Govinda K.C. He is currently a student of Pandit Subhankar Banerjee, while teaching Indian music himself with Patrick Moutal at the Paris Conservatory (1994-2001) His first recording as a leader, an album of solo drums, was released in 1997 on the British Leo label linked to free jazz music and improvisation. Besides Jazz and Indian music, he is attracted especially to flamenco music. He has worked with some of the great flamenco artists, among them Carmen Linares, Esperanza Fernández, Inés Bacán, Gerardo Núñez, Rafael de Utrera, Chano Domínguez, etc… His musical endeavours have always been challenging; his interpretation of songs from the Spanish civil war (2001) spring to mind, or his duos dedicated to Roland Kirk (2002). From 1997 to 2000 he was drummer in the renowned French Orchestre National de Jazz under Didier Levallet, who continues to expand the traditional vocabulary of the orchestra with new elements. Among many others, Lopez has worked at concerts and festivals and in the recording studio with the following musicians of the jazz avant-garde: Beñat Achiary, Rashied Ali, Majid Bekkas, Anthony Coleman, Andrew Cyrille, Sophia Domancich, Agustí Fernández, Glenn Ferris, Sonny Fortune, Barry Guy, Charles Gayle, Teppo Hauta-Aho, Howard Johnson, Hans Koch, Joachim Kuhn, Daunik Lazro, Jeanne Lee, Thierry Madiot, Roscoe Mitchell, Joe Morris, Ivo Perelman, Enrico Rava, Paul Rogers, Louis Sclavis, Alain Silva, Archie Shepp, John Surman, Claude Tchamitchian, Mal Waldron, Christine Wodrascka… Ramon Lopez is an un-typical percussionist. He is a musician who has mastered a number of different musical traditions. He loves to work with artists from other disciplines, with actors, choreographers or visual artists. He is currently one of the most respected European musicians in the area of contemporary jazz or improvised music. The French government named him "Chevalier of the Order of Arts and Letters" in 2008.
Born in 1954 in Cracow, in the communist Poland, Jacek Wozniak is made teeth by basing in his high school of Cracow a satiric entitled newspaper "Tegoryjec". Pupil of the Fine arts, he works for several theater companies and a group of jazz-rock, publishes his first drawings of press in "Student" then is committed by influential Polytyka " where he perfects his art to play cat and mouse with the censorship. Of this gymnastics he(it) keeps(guards) the taste of the moved comment and the side street. No head-on attack: " I never draw politicians I owe my style to the censorship ". Of the cauldron of the 1980s, he extracts drawings for the bulletins of "Solidarnosc", posters for the strikers. Incorrigible, it the first satiric newspaper. The opponent takes it badly. An old cracovienne legend assures that if general Jaruzelski carried dark glasses, it was not to see the drawings of Wozniak … It is not proved but what is safe, it is that in December, 1981, when the state of siege is decreed, our artist finds himself behind bars. Released three months later against the promise to leave fast made by the native country, Wozniak takes its suitcase, his wife, his children and lands in Paris where he obtains the political asylum (and a few years later the French nationality). At the beginning, he very badly speaks French. Today he considerably progressed and speaks fluently the wozniak.
After various casual jobs - to distribute the mail and to spray plants, he sows his threadlike characters without any sectarianism, drawing at the same time for "Playboy" and " the Cross " without making a mistake about delivery. Such a control is worth to him the attention of the "Canard" which publishes its first drawing in 1986. Its wrongly free-and-easy line and skilfully untidy, its style of lunar Pierrot which would have abused some vodka disturb some readers of the "Duck". But we do not change Wozniak which draws. His(her,its) work in the "Canard" where it quickly becomes salaried full does not forbid him to draw in "Le Monde", "Le Nouvel Observateur", "Der Frau" and "Courrier international". Excellent colorer who does not stop painting (of surprising feminine nudes in particular), poster design in great demand, Wozniak also realized clips, cartoon movies, disc pockets in association with his friends Manu Chao singer and Archie Shepp jazzman. In 1998, on the occasion of the Football World Cup, he based with some enemies of the sport - among whom Cabu, Kerleroux and Kiro - the web site Scurvy. Since the commentators are unanimous: for the art of the dribbled around drawing, the penalty in three bands and the bubble with opposite, the real Brazilian of the satire, it is Polish of the "Canard".