Burning Bright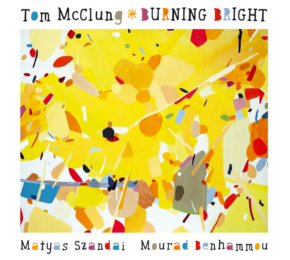 Le bien nommé « Burning Bright », nouvel album du pianiste Tom McClung, dévoile dix de ses compositions et une reprise d'un classique de Mal Waldron, « Fire Waltz ». Le Feu, l'Eau, la Terre et l'Air, sont l'âme de ces morceaux. Ce nouveau disque en trio montre Tom McClung dans ses multiples explorations. Ses mélodies et ses rythmes sont contagieux, ses improvisations hardies. La musique originale de Tom McClung reflète son admiration pour les compositeurs et musiciens comme Thelonious Monk, Duke Ellington, Charles Mingus, et John Coltrane. La section rythmique est composée du bassiste hongrois Mátyás Szandai et du batteur franco-algérien Mourad Benhammou. Les trois partagent le même respect pour l'héritage de la musique noire-américaine. Ce trio international est l'expression même d'une liberté aux racines puissantes et profondes.
I Hear the Sound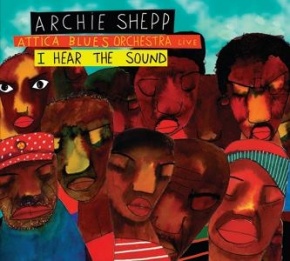 I Hear the Sound
ARCHIE SHEPP ATTICA BLUES ORCHESTRA - LIVE -
Nominated to the 2015 Grammy Awards: Best Large Jazz Ensemble Album!
Archie Shepp (Saxophones tenor, soprano, voice)
with Jimmy Owens (Conductor), Amina Claudine Myers , Marion Rampal, Cécile McLorin Salvant (Voices), Amina Claudine Myers, Tom Mc Clung(Piano), Famoudou Don Moye (Drums, congas), Reggie Washington (Double bass et Bass), Pierre Durand (Guitar), Stéphane Belmondo, Izidor Leitinger, Christophe Leloil, Olivier Miconi (Trumpets), Sébastien Llado, Simon Sieger, Romain Morello, Michaël Ballue (Trombones), Raphaël Imbert, Olivier Chaussade (Alto Saxophones) François Théberge, Virgile Lefebvre (Tenor saxophones), Jean-Philippe Scali (Baryton saxophone), Manon Tenoudji, Steve Duong (Violins), Antoine Carlier (Violin alto), Louise Rosbach (Cello). Except The Cry Of My People: Trumpet : Ambrose Akinmusire, Bass : Darryl Hall, Conductor : Jean-Claude André
On September 9,1971, a riot broke out in Attica Prison, New York State, and quickly spread. Five days later the prison was re-taken by force and 39 people were left dead: 29 prisoners and 10 hostages. At first, the administration tried to blame the guards' deaths on the rioters, before being forced to renege.
In January 1972, Archie Shepp recorded the album Attica Blues in tribute to this rebellion. After the original and the repeat performance at the Palais des Glaces in 1979 of his Attica Blues Orchestra, Archie Shepp in 2012 revived this fantastic ensemble, together with a brilliant and dynamic collective of performers. It is an orchestra which transcends styles and epochs. The band is international in scope, combining the extraordinary abilities of great American artists such as: Amina Claudine Myers, Famoudou Don Moye, Ambrose Akinmusire and Reggie Washington, with an array of some of the brightest stars on the European horizon - a 26-piece orchestra which emits a unique generational and cultural ambiance.
The album was recorded on Sept 9 2012 at the Jazz à La Villette Festival, June 14 2013 at CNCDC de Châteauvallon and on June17 2013 at Les Nuits de Fourvière Festival.
Track listing:
1. Attica Blues 8'02 / 2. Arms 7'31 / 3. Blues for Brother G. Jackson 6'56 / 4. Come Sunday 6'36 / 5. The Cry of My People 6'53 / 6. Quiet Dawn 9'12 / 7. Déjà-vu 5'48 / 8. Steam 5'41 / 9. Goodbye Sweet Pop's 8'15 / 10. Ballad for a Child 5'04 / 11. Mama Too Tight 7'03 (available for download: 12. The Stars are in your eyes 13. Ujaama)
Nightscape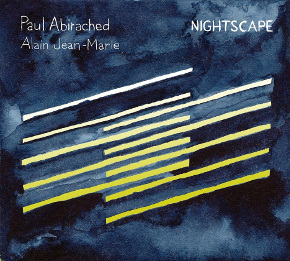 Paul Abirached, guitar, and Alain Jean-Marie, piano, met for the recording of Paul Abirached's first album, Dream Steps. This second opus, a duo, is a rare show of finesse and elegance. Paul Abirached chose a repertoire mixing compositions, originals (Jim Hall, Paul Motian, Joe Lovano, Wayne Shorter, Billie Holliday) and moments of pure improvisations. Alain Jean-Marie submitted with pleasure to this poetic universe, guided on unfamiliar terrain. Nightscape was recorded ad hoc, without rehearsals, after a short series of concerts in Paris, Brussels and Liege, it is a snapshot of a continuing dialogue.
http://www.paulabirachedmusic.com
Our record label — Archieball — is celebrating its 10th year of existence and on that occasion, we're opening up to more artists. In those 10 years of cautious existence – cautious for financial survival reasons – we've received many requests from musicians of all walks of life and ages who wished to join our adventure. In keeping with the spirit of sharing of Archieball's main founder; the composer, saxophonist, singer and professor Archie Shepp, we created the Rainbow Collection. With this collection, we hope to put forth inventive and jubilatory musical works, true to the spirit of Afro American music, commonly known as jazz music.
The Sound Before the Fury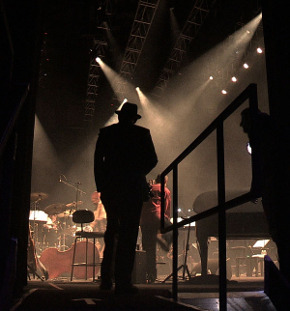 The film was shown in the international competition at Doclisboa, and will now continue its road on the festival circuit.
The Sound Before the Fury tells of the transmission of a music, a culture, a history to a younger generation of musicians. The central figure is the major Afro-American artist Archie Sheep — musician, poet, playwright. His music, his passion are the heart of the film.
In January 1972, Archie Shepp recorded the album Attica Blues as an homage to the Attica prison rebellion, 40 years later he revisits this music. We follow him and 25 musicians through days of intense rehearsal to the opening concert in Paris.
The film interweaves this narrative with images from the rebellion, and interviews of the leaders from 1972. We discover the story of the Attica uprising, or rather, the story of the Attica rebels themselves, of their revolt and of their hopes. From the dialog between the musical creation and the memories of Attica, associations are born which bring to light Shepp's aesthetic and political approach. We witness his determination to transmit, beyond the notes, the meaning and feeling of his music ; we discover the ties, sometime intimate, that the musicians have with the Attica events.
"I feel like they can't hear me out there." The night before the opening, Shepp is worrying about the sound in the concert hall, worrying that his voice will not be heard ; so, too, were the rebels. The music, the orchestra itself, united around Shepp, are a celebration of the spirit of the Attica rebellion, symbolically recaptured. A spirit that is sorely lacking in our times.
Mutation Majeure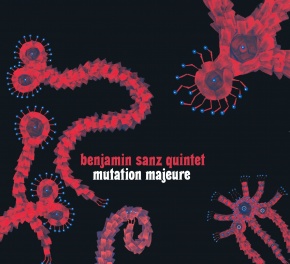 Benjamin Sanz Quintet

Benjamin Sanz (drums)
Mathieu Jerome (piano)
Rasuk Siddik (trumpet)
Boris Blanchet (saxophone)
Idriss Mlanao (cdoublebass)
Released: September 2011 - Archieball - Harmonia mundi


These musicians play an impetuous music, fed by a sensibility for common improvisation and an ear for the instantaneous.
Their music stems from jazz bop, hard bop, free... more widely influenced by African-rooted musical expressions , it develops a polyrhythmic and current language.
The repertoire contains compositions written by members of the group for this particular formation.
Benjamin Sanz Quintet plays a powerful pulsation, a direct and open sound. Its permanent feature is the search for the equilibrium between a dynamic of interaction, risk-taking and the mastering of the overall sound.
Tracklisting:
1. Night Skating
2. Éveil
3. Miroiterie
4. Jungle
5. Se Disloque le Discours Social
6. XB - 12
7. Maria (Callas)
8. Mutation Majeure
Wo!man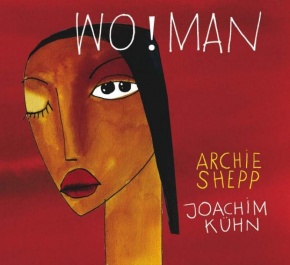 Formation:

Archie Shepp: (Soxophones alto,tenor)
Joachim Kûhn: (Piano)
Released at Archieball/harmonia mundi
Meudon, Studios de Meudon, November 15 and 16, 2010.
Archie Shepp and Joachim Kühn record a duet. The duet, an open form that gives each of the two musicians a lot of space, is a fragile art form. A certain kind of emulation—a challenge, some alchemy—has to be at work. It's a delicate balance, a delicate sound, a profound and intense dialogue between the intimacy of improvisation and the urgency of expression.
Tracklisting
1.Transmitting
2. Nina
3. Harlem Nocturne
4. Drivin' Miss Daisy
5. Lonely Woman
6. Segue
7. Sophisticated Lady
8. Sketch
Final coda sax Monette (by Archie Shepp)
Phat Jam in Milano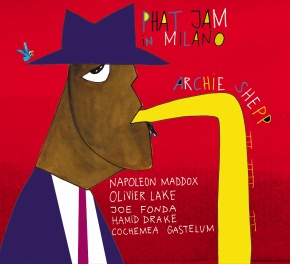 Concert recorded on november 19 2007 in Milano, at the Teatro Manzoni, for the Aperitivo in Concerto festival

Archie Shepp (saxophone, voice)
Napoleon Maddox (rap, beatbox)
Oliver Lake (sax)
Hamid Drake (drums)
Joe Fonda (doublebass)
Cocheme'a Gastelum (alto sax)
Released April 2009 - Dawn of Freedom - Harmonia Mundi
The breath of Archie Shepp comes all the way from Africa, bringing with it the tradition of African-American music, and reviving it as only someone born in this historical backgroThe breath of Archie Shepp comes all the way from Africa, bringing with it the tradition of African-American music, and reviving it as only someone born in this historical background could.
Historical patriarch of an open, pure jazz, Archie Shepp is not merely a master of the saxophone. He represents a twofold awareness, musical and political, which has always defined his aesthetic options and is found throughout his career: the intense playing style of his free jazz period, his immersion in blues, his flirtation with rhythm 'n' blues, the passion he brings to his ballads, and his frequents visits to bop.
A jazz actor, "transmitter, mythical and historical musician, emerging from the great tradition of blues; trailblazer to the future, a citizen of Freedom and a militant of Black Awareness" - dixit Bernard Lubat - Archie Shepp is responsible for multiple, bold encounters between American musicians of different generations; between French musicians and African musicians; between hip hop, libertarian jazz and African music.
Attaining even greater heights of freedom, he put together project after project with rap and slam, gathering around him musicians such as Jalal (Last Poets), Chuck D (Public Enemy), Rocé, Vicelow (ex Saïan Supa Crew), and later, after an explosive concert in Italy in 2007: Napoleon Maddox... The chemistry between Shepp, Drake and Maddox is a fiery experience. Phat Jam is nothing more than the raw diamond that was born of this encounter.
Tracklisting:
1.Dig
2.Ill biz
3.Kashmir
4.The life we shose
5.Revolution
6.Casket
7. Ill biz Radio Edit
Lemniscate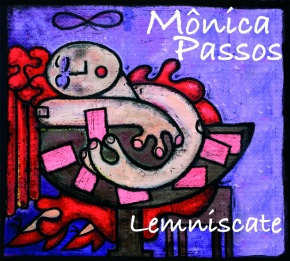 Mônica Passos
Mônica Passos (guitar, voice, arrangements)
Jean-Philippe Crespin (guitar, arrangements)
Edmundo Carneiro (surdo)
Jorge Bezerra junior (percussions)
Daniel Beaussier (clarinettes, hautbois, saxophone barriton)
Jean-Yves Lenoble (violin alto)
Bérénice Riollet (flûte)
Margot Varret (harpe)
Emma Ruiz (trumpet)
Eric Gallois (alto sax)
Stéphane Beaussier (trombone)
Bernard Wystraete (flûte G)
Thomas Ostrowiecki (percussions)
Félix Jacquin (choir, guitar)
Featuring : Emmanuel Bex (organ), Archie Shepp (sax)
Realisation : Jean-Philippe Crespin
Producer : Jean-Paul Bazin - Arts et Spectacle
© Arts et Spectacle - ARCHIEBALL 2008
Mônica sings, plays guitar, whistles, shares with the public and her musicians and speaks with angels. Always unpredictable, with an irreverent verve, timeless, the Fellini's character alike touchs heart at every single appearance. In her new release :Lemniscate , she revisits songs she loves and interprets its like the bresilian modernist of the anthropophagous movement did in the 1930's.
The Brasilian singer, adopted by France twenty years ago, supplies a musical trip accross her own musical legacy, from Brazil to France : from the famous french song La mémoire et la mer (Ferré) to Riders on the Storm (Doors) through Caravan ( Ellington) or Carmen (Bizet). In Lemniscate, these old universal theme keep close to the brasilian theme of her childhood and to her original compositions.
Lemniscate is the mathematic symbol which symbolyses the infinity... the eternal return. Mônica has lived in France since 1980, a foreigner in eternal return. World Music Gold Django awarded in 2005, this story-teller/diva is far away from the usual «clichés» of brasilian singer.
If a flower could release a revolution, she would be named Mônica ...
Tracklisting:
1.Àguas de março
2.Avec le temps
3.Rien de rien
4.Carmen
5.Colchiques dans les prés
6.La mémoire et la mer
7.Valsa do amor perfeito
8.Les feuilles mortes
9.La claire fontaine
10.Riders on the storm
11.Jalousie
12.La caravane
13.Tico tico
14.Odéon
15.Lemniscate
16.J.Y.M
Je suis Jazz, c'est ma vie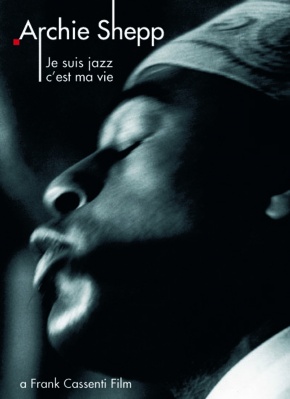 DVD Je suis Jazz c'est ma vie
A documentary of Frank Cassenti. (2007)
Subtitles French and English
Total length: 83 min
Tracklisting:
Je suis Jazz c'est ma vie, Archie Shepp, Paris 1983 . 54 min
Bonus: video clip recorded at the Jazz a Porquerolles festival
with Siegfried Kessler, Diego Imbert, Michel Benita, aldo Romano, Mino Cinelu, Stéphane Guéry...
+ Guy Le Querrec Best pictures (1967/1983) (with Archie Shepp's comments)



A coproduction Oléo Films -Archieball (2007), Harmonia Mundi