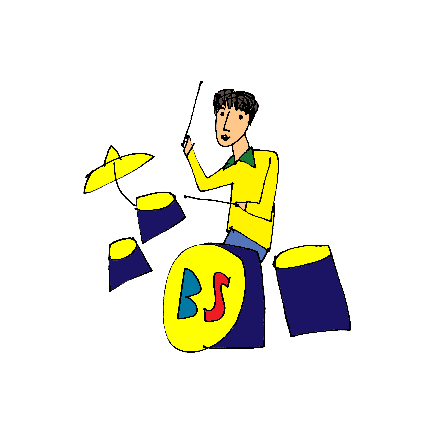 "Echoes of the wild Wayne Shorter during the Blue Note years, Don Cherry in his "Complete Communion", imbued with polyrhythms and grooves born from a very current language."
Vincent Bessière, JAZZMAN
Drummer and composer, he is at the inception of a number of projects, such as the Benjamin Sanz Quintet, inhabited by jazz and African-rooted musical expressions. He has organized and led for seven years a jazz and world music 'Jam Session' at the Miroiterie (Paris Ménilmontant), a meeting place for music and sharing of knowledge, supported by the presence of great musicians such as David Murray, Bobby Few, Ernest Dawkins, Sabir Matteen, Jaribu Shahid... there, musicians of the 'Great Black Music' movement and of the entire world cross paths. Focused on creativity and improvisation, his polyrhythmic manner of playing incites exchange, favors a powerful pulsation and the cohesion of a wholesome sound. Trained through playing with great musicians and his travels, he played in Europe, Africa and the United States with musicians such as David Murray (David Murray and the Gwo Ka Masters), Byard Lancaster, Fantazio, Roy Campbell, Lobi Traoré, Safiata Condé, Aïda Kahnn, Oliver Lake, the Romanian singer Norig, the American hip hop jazz group Iswhat?! (European tours of 2007-2010), Archie Shepp... he is putting together a new album (recorded end of January 2011) with musicians of the New-York jazz-funk collective Burnt Sugar (Black Rock Coalition) and dedicates himself entirely to music. His generous qualities and his knowledge of black musical expressions make him an increasingly more sought after 'sideman'.
Benjamin Sanz (drums) Mathieu Jerome (piano)
©DR
©DR
Rasuk Siddik Logan Richardson Matyas Szandaï
(trumpet) (saxophone) (doublebass)
©DR
©DR
©DR
©DR
The musicians of People's Choice, if they express themselves by playing arrangements of pieces known for the general public, do not also forget it to compose original pieces, livened up by the need to bring their own contribution to this creative classical music.
Displaying 1-1 of 1 result.
Mutation Majeure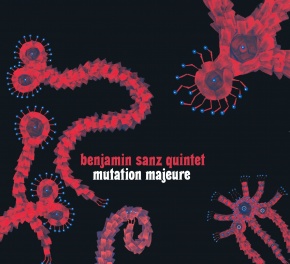 Benjamin Sanz Quintet

Benjamin Sanz (drums)
Mathieu Jerome (piano)
Rasuk Siddik (trumpet)
Boris Blanchet (saxophone)
Idriss Mlanao (cdoublebass)
Released: September 2011 - Archieball - Harmonia mundi


These musicians play an impetuous music, fed by a sensibility for common improvisation and an ear for the instantaneous.
Their music stems from jazz bop, hard bop, free... more widely influenced by African-rooted musical expressions , it develops a polyrhythmic and current language.
The repertoire contains compositions written by members of the group for this particular formation.
Benjamin Sanz Quintet plays a powerful pulsation, a direct and open sound. Its permanent feature is the search for the equilibrium between a dynamic of interaction, risk-taking and the mastering of the overall sound.
Tracklisting:
1. Night Skating
2. Éveil
3. Miroiterie
4. Jungle
5. Se Disloque le Discours Social
6. XB - 12
7. Maria (Callas)
8. Mutation Majeure