Gemini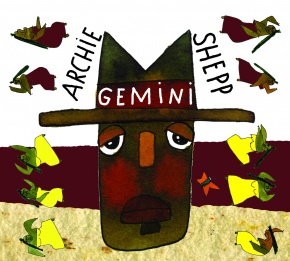 Formation:
CD1: Archie Shepp (Saxophone tenor, soprano)
Tom McClung (Piano)
Wayne Dockery (Bass)
Steve McCraven (Drums)
+Chuck D (Voice) et Stéphane Guéry (Guitar) in guest
CD2: Archie Shepp (Saxophone tenor, soprano)
Amina C. Myers (Piano,Voice)
Cameron Brown (Bass)
Ronnie Burrage (Drums)
Archieball/Harmonia Mundi
Tracklisting:
CD1:
1. The Reverse (alternate version 1)
2. Revolution (Mama Rose)
3. Burning Bright
4. Trippin'
5. Time Stood Still
6. Intertwining Spirits
7. La Manzana
8. Eva
9. Pannonica
10. The Reverse
11. The Reverse (alternate version 2)
CD2:
1. Hope two
2. Call Him
3. Do you want to be saved
4. Ujaama
5. Rest Enough
Kindred Spirits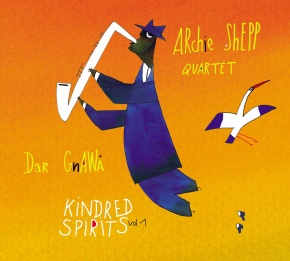 Archie Shepp 4tet and the Dar Gnawa of Tanger
Archie Shepp (saxophones, voice)
Tom McClung (piano)
Wayne Dockery (double bass)
Steve Mc Craven (drums)
Maalem Abdellah El Gourd
Abdelljabar El Gourd (gembri, voice)
Noureddine Touati, Ahmed Gdirou
and Khalid Rahhali (carcabou, choir, dance)
Sortie 2005 - Archieball-Harmonia Mundi
The songs they sing recount the endless suffering of the people, but this pain is released by the passion of the music and trance inducing performance. It is a powerful experience. I entered into Dar Gnawa's aura girded up by my own perceptions as an erstwhile 'Baptist'. I heard as a young man the shouting spirituals, revivals and ring dances of my own people. The 'blues people' are not so far removed from the Gnawi. In some ways I can say that our experiences were very similar: loves forever lost, lives irreparably destroyed, memories of family and ancient friend indelibly erased. People were uprooted from their traditional homelands all over Africa. Some were forced to take the journey across the Atlantic . compelling example of this sad historical fact is the famous 'middle passage' which witnessed human beings, sold on the open market as slaves in European port cities such as Nantes and Bordeaux then herded into ships under inhuman conditions and sent to the New World. Despite the alienation and terrible conditions they were forced to endure this black diaspora created its own music and dance culture, their own distinctive musical conventions, throughout the Americas. New song styles and dances such as 'jazz' and 'blues', 'Salsa', Samba, Calypso and Reggae including modern day 'hip hop' bear witness to the diversity and startling musical ability of these individuals.
As I watched with fascination the gnawa dance, and listened intently to the melodious baritone of Abdellah, I couldn't help but think of the Negro Spiritual, and at other times the Afro Cuban Merengue. It is interesting to ponder that a group like the Dar Gnawa might provide an interesting link to the evolution of performance styles in the new World.

Archie Shepp
Tracklisting:
1.Main Street Medina
2.Suite Blue
3.Middle Passage
4.Groove Mosso
5.Dawn of Freedom
6. Kindred Sprits
First Take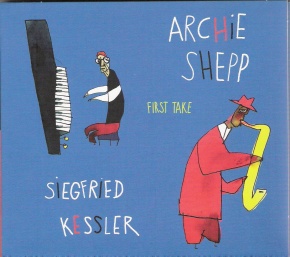 Line-up:
Archie Shepp (saxophones, voix)
Siegfried Kessler (piano)
It is obviously a considerable event to find two old accomplices on a scene. Indeed Siegfried Kessler and Archie Shepp have known each other during the 70s, during European tours, between Italy and France (Le Chat qui pêche of Paris for example), to play until the end of the night a jazz than they like both: that of the total and tonale freedom. Kessler lived on a boat off La Grande Motte (next to Marseille). One day, Jean Peiffer, boss of the Jam, a club of neighborhood, proposes him an evening " white card ". He can play with whom he wants. "Siggi" doesn't hesitate one second: it will be Shepp, his old friend. And it is warm to find them both from the introductory piece, Le Matin des Noirs, for lyric and intense inspirations that they possess the secret. Sideman dreamed for Shepp, Kessler sticks its chords and its notes in the crevices of broken lines of the saxophonist. The dialogue of both is an sharp dream, which stretches on fondamental subjects, on which we feel a very concentrated public … Thems of Shepp, Ellington, Strayhorn and Monk celebrates " the afro - américanité " of a jazz which doesn't wants to say its name (Shepp hates this term). A magic evening, between Mistral and Mediterranean matrix.
Tracklisting:
Le matin des noirs
Lush life
Don't get around much anymore
Steam
Misterioso/California blues
Ujaama
Go to page: